Spark Juries
Every year Spark is honored to present a fresh group of very talented judges. Each bench of jurors is gathered with the help of our Jury Chairs, Advisors and Community members. The Jurors come from across the spectrum of design disciplines, media, educators and experts. Each Jury has teams of experts who specialize in specific disciplines and act as reference guides for the larger multi-disciplinary unit.
The Jurors become Spark advisors as the judging sessions roll on, concluding each day
with a robust and useful discussion of the Spark jury process and Spark in general. We've
also been blessed with several "Jury Mentors" who take especial interest in exploring and
establishing best practices for the jury process. These great friends of Spark include
Tania Aldous, VP Design at Corelle and Mike Nuttall, Co-Founder, IDEO.
Virtual Live Juries
In light of the dangers of travel and personal meetings in these days of covid, Spark has re-invented the jury process. We're pioneering a voting system that is live, simultaneous and vibrant. Globally connected judges debate the merits of the submissions over multiple days and many time zones. Some jurors are up very early and others are judging late into the night. It's not easy, but it's a great experience for all the participants!
Just Finished–The 2020 Fall Juries
This was the big one, covering all design disciplines for professional designers. These included:
Graphic Design; Health, Medical & Universal Design; Product Design; Spaces Design; Transport & Mobility Design; Concept Pro; Experience & Service Design;
Digital Design and Packaging Design.
2020 Spark Fall Jury, November 20-25, Global
Mike Nuttall, Co-Founder, IDEO (Jury Mentor), Palo Alto
Tania Aldous, Vice President of Design, Corelle (Jury Mentor) Chicago
Oliver Berger, Co-Founder, Notation Creative Consulting, Zurich
Dr. Jesvin Yeo, Associate Dean, Graphic Design, Designing Cultures Studio, Nanyang Technological University, Singapore
Chris Hacker, Chair of Product Design, ArtCenter College, Pasadena
Jacqui Belleau, Principal, Jacqui Belleau Design, San Francisco & Portland
Ross Wimer, Senior Vice President, Architecture Leader AECOM Americas, Los Angeles
Dave Muyres, VP Design, Innovation & Product Development, Streetscope, Pasadena
Hamda Al Naimi, Principal, Hamda Design, San Francisco & Dubai
Patrick Abrams, Director & Founder, Applied Studio Architecture London
Terri Winter, Founder & Curator, Top3 by design, Australia
Clark Sept, Principal, Gensler, San Francisco
Kraig Kessel, Co-Founder, Kraido, San Francisco
Wendy Chan, Senior User Experience Manager, Service Design, Intuitive Surgical, Sunnyvale
Martin Heck, Designer, Brandis Industrial Design, Nuremberg, Bavaria, Germany
2020 Spark Spring Semester Student Jury, June 15, Global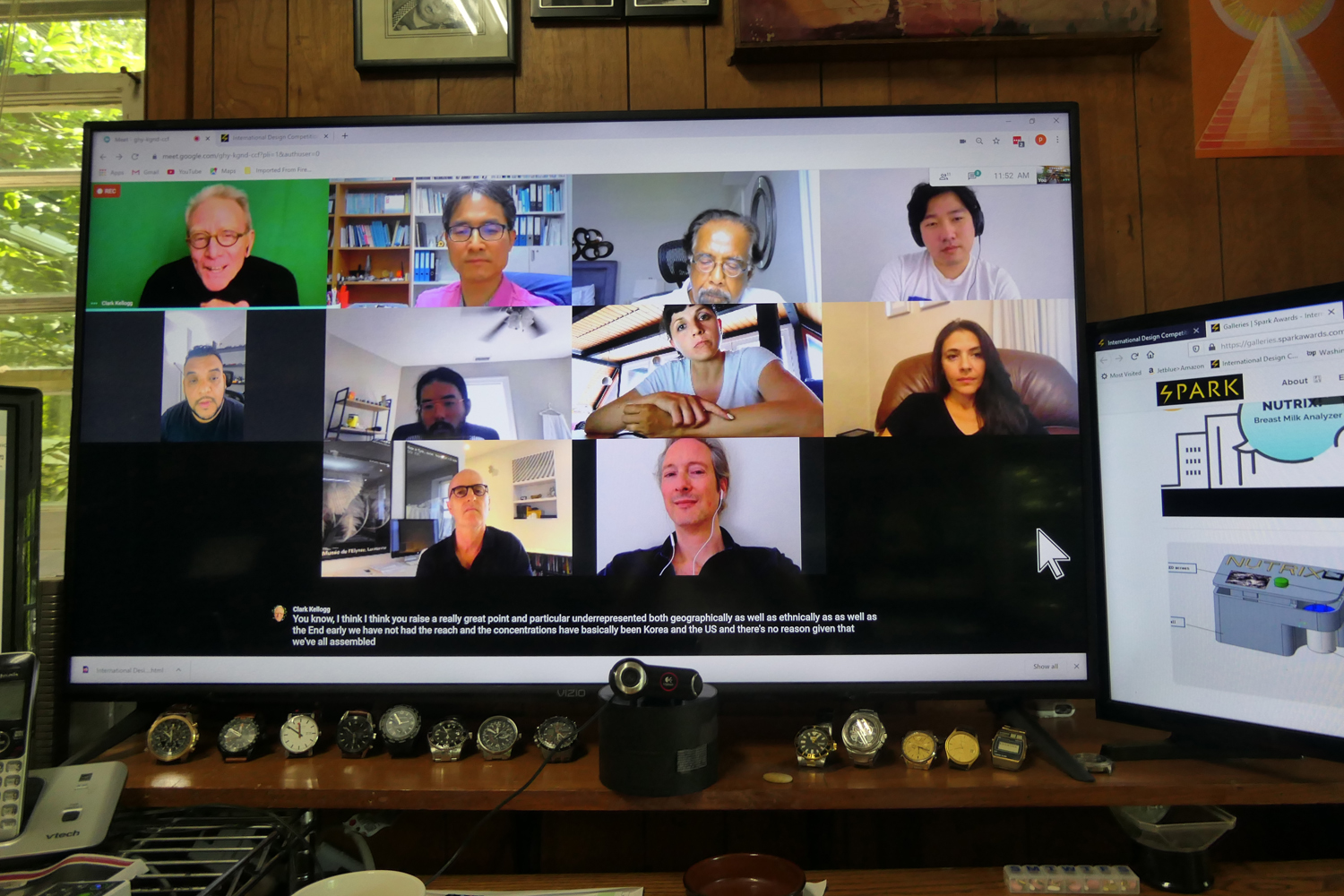 Mike Nuttall, Co-Founder, IDEO (Jury Mentor), Palo Alto
Brent Oppenheimer, Principal, O+CO, NYC
Sahar Madanat, Design Director & Founder, TWELVE Degrees, Amman
KwanMyoung Kim, Dean, Graduate Industrial Design, UNIST, Ulsan
Antonio Borja, Director, Industrial Design, Academy of Art University, San Francisco
Hari Nair, Professor, Design Management, Savannah College of Art & Design, Savannah
Gary- Sheng Hung Lee, R.A., MIT AgeLab; Course Experience Designer, MIT xPRO, Boston
Claudya Piazera, CEO, Smart8, Wintergarden
Elena Raho, Founder & CEO, HERE CREATE, Hong Kong
Ryan Jongwoo Choi, Senior Industrial Designer, McLaren, London
Andrea Ruggiero, Principal, Andrea Ruggiero Design, NYC
Hi Jurors–Wow!
That was a terrific week—breakthrough tech, insightful commentary, educational, fun, funny, heartwarming and new and old friends. Thank you from me personally and on behalf of Spark.
You gave the students a good, hard, fair look at the work and we are very much in agreement with the choices made.
Here's a link to the first announcement:
https://www.sparkawards.com/2020/06/19/spring-student-winners-announced/
All Best, Take Care & Stay Well!
–Peter
"It was great to see those of you who I met in SF/HK last year again and new faces. The judging process worked pretty well, I really enjoyed discussing my thoughts with you.
Hope to see you again, let's keep in touch. & Stay safe!
Kindest regards
Ryan Jongwoo Choi
Senior Industrial Designer at McLaren
Peter,
Thank you and your team for pulling this off so smoothly at the first trial. And thank you for extending the invitation to include me.
I thoroughly enjoyed the discussions with the jury, whom I am so glad I met.
I hope to connect with you all one day in person…maybe in Jordan one day! Meanwhile, stay safe and healthy 🙂
Best Regards,
Sahar Madanat Haddad
Likewise!
It was great to spend a few mornings with all of you going thru design concepts, especially from young minds, and having meaningful discussions around them, which we are all passionate about. I am also glad to have met all of you, albeit virtually, and look forward to staying in touch. Thanks Peter and Clark for bringing us together. Please stay in touch and stay safe.
Best
Hari Nair & Claudya Piazera
Thank you Peter and all. It was a great experience judging and meeting you all virtually.
Hope to see you again.
Best,
KwanMyung Kim
Dean, Graduate School of Creative Design Engineering | UNIST
Thank you, Peter, and all the jurors!!! It was a great and meaningful discussion!!!
Best regards,
Sheng-Hung Lee 李盛弘
Course Experience Designer, MIT xPRO
Vice Chair, IDSA Boston
Thank you Peter and Clark for being a great host.
My fellow Jurors, thank you for the insightful discussions around the different design submissions. I look forward to doing this again soon.
I hope you guys all have a wonderful summer, stay safe and healthy!
Cheers,
Antonio Borja
Director, School of Industrial Design, Academy of Art University
Thanks again for involving me in Spark — it's always a pleasure and happy it worked out so well given the distancing.
Pandemic or not, the Spark is still there!
All best
Andrea Ruggiero"

2019 Spark Spring Semester Student Jury (June in San Francisco)
(From Left to Right in Photo Above)
Mary Katica, Program Director, IDEO.org (Health)
Jochen Backs, Principal, Studio Backs (Product)
Willy Carteau, Senior Industrial Designer, Google (Product)
Peter Kuchnicki, Spark Director
Fariba Marnani, Industrial Designer, Eichleay, Inc
Lisa Sullivan, Principal, L.Sullivan Design & Communications (Spaces)
Irina Kozlovskaya, Director, Industrial Design, Fitbit (Product)
Nichole Rouillac, Founding Partner, level design sf (Product)
Mathias Hintermann, Industrial Designer, Snap Inc. (Product)
Sally Darby, Senior Strategist, Frog design (Spaces)
Earl Gee, Partner, Gee + Chung Design (Graphics)

2019 Spark Juries (November 18 in San Francisco) Including: Product, Graphics, Experience, Health, Digital & Transport
(From Left to Right in Photo Above)
Sam Lucente, Principal, Lucente Design (Product)
Antonio Borja, Director, Industrial Design, Academy of Art University (Transport)
Hugo Eccles, Creative Director, Special Projects Office (Product)
Claude Zellweger, Director of Design, Google (Experience),
Jochen Backs, Principal, Studio Backs (Product)
Peter Bristol, Head of Industrial Design, Facebook VR/AR/Portal (Product)
Claudio Ribeiro, Chief Experience Designer, VSN Mobil (Experience)
Julien Rouillac, Principal Industrial Designer, Innovation Design Lab., 3D SYSTEMS (Product)
Arin Bhowmick, VP & Chief Design Officer, IBM Cloud, Data and AI Practice (Digital)
Peter Kuchnicki, President, Spark Design Awards
Mike Nuttall, Co-Founder, IDEO (Jury Mentor)
Emida Natalaray, Director, School of Technology for the Arts, Republic Polytechnic (Digital)
Ryan Jongwoo Choi, Industrial Designer, McLaren Applied Technology (Transport)
Eric Chan, President & Founder, Ecco Design (Product)
Damien Lock, Director, School of Tech, Republic Polytechnic
Norio Fujikawa, Executive Creative Director, ASTRO Studios (Product)
Robert Hubler, Senior Industrial Designer, Intuitive (Health)
Kate Freebairn, Director of UX, Google Nest (Product)
Steven R. Umbach, Principal, Umbach Consulting Group (Experience)
Colin Owen, Design Director, Elroy Air (Product)
Clark Kellogg, Professor, Design Thinking, UC Berkeley Haas, Spark Director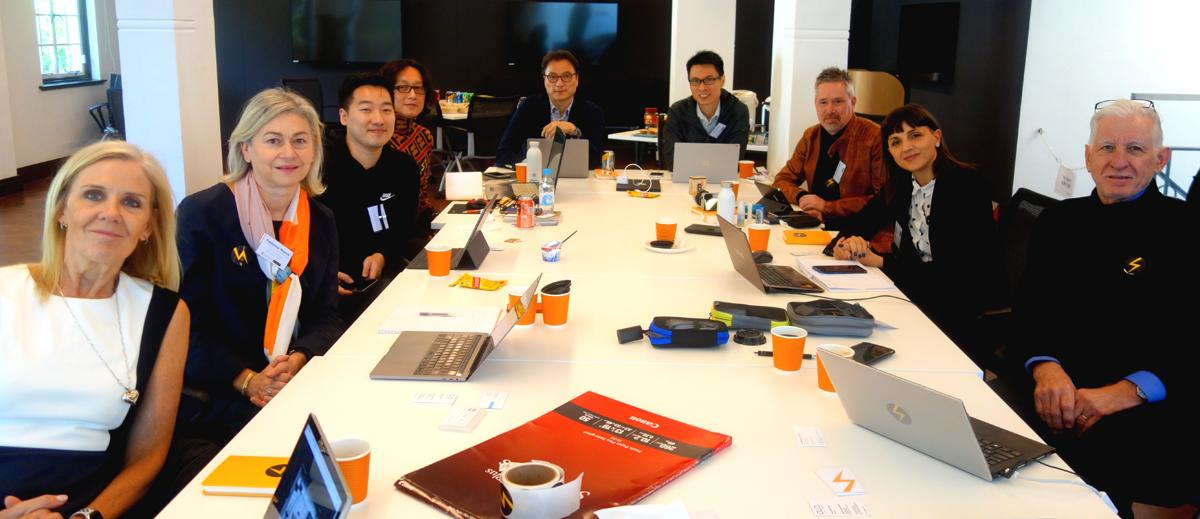 2019 Spark Juries (December 3 in Hong Kong) Including: Spark Student Design & Spaces Design
(From Left to Right in Photo Above)
Ame Engelhart, Director, Skidmore, Owings & Merrill
Fabienne Munch, Executive Director Global Initiatives & Strategy, The University of Chicago
Ryan Jongwoo Choi, Industrial Designer, McLaren Applied Technology
Tang Chen-Chuan, Director, Tang Designs
Cheol Woo Park, Chief Design Officer, Royole Corporation
Edmund Ng, VP & Co-Founder, KONCEPT Lighting
David B. Frank, Senior Associate & Design Director, Gensler
Elena Raho, Founder & CEO, HERE CREATE
Peter Kuchnicki, Director, Spark Awards
Matio Conti, Senior ID Manager, Motorola Mobility (not pictured)