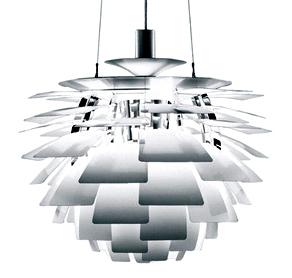 Poul Henningsen's Artichoke Lamp, courtesy DWR
Spark Juries
Each year Spark is honored to present a new, fresh group of very talented judges. Each bench of jurors are gathered with the help of our Jury Chairs, Advisers and Community members. The Jurors come from across the spectrum of design disciplines, media, educators and experts.
2013 Juries
Spark Concept & Student
Chair: Manuel Saez, Prinicpal, Manuel Saez & Partners
Qin Li, Design Director, Fuseproject
Lea Kobeli, Senior Creative Lead at LUNAR
Steve Diskin, Chair, Industrial Design, Pratt Institute
Lisa Vuskovic, Product Design & Development Consultant
Emmanuel Laffon de Mazières, Industrial Designer, Amazon Lab126
Jacqui Belleau, Design Manager of New Deal Design
John Duran, Industrial Design Manager, CamelBak Products
Peter Bristol, Creative Director, Carbon Design Group
Spark Communication
Min Wang, Chair Professor, Hong Kong Polytechnic
Leimei Julia Chiu, Executive Director, Good Design Awards, Japan
Adam Brodsky, Principal & Creative Director, Volume Design
Tom Crabtree, Founder & Director, Manuel
Zhou Wenjun, Founder, CD & Architect, 524 Studio
Spark Spaces
Chair: Gene Schnair, Managing Partner, Skidmore, Owings & Merrill LLP
Shawn McLean-Bergel, Director of Interiors, EHDD
Amy Eliot, Partner, Dilworth Eliot Studio
Mitchell Mauk, Principal, Mauk Design
Ingalill Wahlroos-Ritter, Chair, Graduate Architecture, Woodbury University
Mark English, AIA CEPE, Principal, Mark English Architects
Elizabeth Shreeve, Principal, SWA Group
W. Mike Martin, Professor Emeritus of Architecture, College of Environmental Design, UC-Berkeley
Laura Hartman, AIA, LEED, Principal, Fernau & Hartman
Bonnie Fisher, Principal, ROMA Design Group
Spark Product
Chair: Sandrine Lebas, Chair of Industrial Design, California College of the Arts
Mike Nuttall, Co-Founder of IDEO
Marc van de Loo, Senior Director, Industrial Design & Usability at Pall Corporation
Klaus Rosburg, Principal at Sonic Design
Bill Evans, Principal and Founder, Bridge Design
Robert Springer, Industrial Design Manager, Samsung Design America
Tung Chiang, Creative Lead &Studio Director, Heath Ceramics
Joanna Hildebrand, RDD Innovation Manager, Jansport
Mike Ely, Principal Industrial Design, Eight Inc.
Spark App
Chair: Jennifer Bove, Director of Brand Design, General Electric
Michael Leggett, Senior Staff Designer, Google
Jennifer Fraser, Director of Design, Macadamian
Ruth Kikin-Gil, UX designer and design strategist at Microsoft
Raphael Grignani, CEO, Jauntful
Mike Kruzeniski, Design Lead, Twitter
Spark Transport
Chair: Geoff Wardle, Director, Advanced Mobility Research, Art Center College
Jean Jennings, President & Editor-in-Chief, Automobile Magazine
Tom Matano, Executive Director, Industrial Design, Academy of Art University
Brent Oppenheimer, Principal, O+CO
Sujin Hwang, AllSpark Platinum 2012 Winner
Spark Experience
Chair: Ravi Sawney, CEO, RKS
Frank Tyneski, Chief of Design and Experience at JMI Equity
Don Norman, Nielsen Norman Group, IDEO Fellow
Maryln Walton, Business Insight Manager, Herman Miller
2012 Juries
Spark>Concept
Jury Chair: Ravi Sawhney, FIDSA, CEO & Founder, RKS Design
John Danner, Senior Fellow, The Lester Center for Entrepreneurship, Haas School of Business, UC Berkeley
Peter Stathis, Principal, Virtual Studio
Sungjoon Kim, CEO & Founder, Stylesays.com
Michael Meyer, Partner, Essential
Tucker Viemeister, Director of Special Projects, Tucker Industries
Darrin Caddes, VP Corporate Design, Plantronics, Inc.
Spark:Communication
Jury Chair, Kit Hinrichs, Principal, Studio Hinrichs,
Earl Gee, Partner, Gee+Chung Design
Ayse Birsel, Partner, BirselPlusseck
Mark Davis, Director of User Experience, Autodesk
Noreen Morioka, Partner, AdamsMorioka
Patricia McShane,Co-founder, M-A-D
Brian Jacobs, Partner, Brick Design
Dennis Crowe, Founder & Creative Director, VehicleSF
Michael Mabry, Principal, Michael Mabry Design
Joel Templin, Principal, Hatch Design
Spark:Product
Jury Chair: Hari Nair, Global Director, Advanced Design, Whirlpool Corporation
Sam Lucente, Principal, Lucente Consulting
Joe Doucet, Principal, Joe Doucet Studio
Andrea Ruggiero, Principal, Andrea Ruggiero Design & Adjunct Prof., Parsons New School For Design
Gabriel Dan, Principal, Studio Fresco
Charles Rozier, Principal, Rozier Design, Adjunct Professor, Philadelphia University
Anna-Pia Slothower, Partner, Deap Design
Chris Ertel, Partner, Monitor Group, Doblin Strategic Design Planning
Spark:Spaces
Jury Chair, David Meckel FAIA, Director of Campus Planning, California College of Arts
Anne Fougeron, Principal, Fougeron Architecture
Liz Ogbu, Resident Fellow, IDEO.org
Linda Pollari, Chair, Architecture/Landscape/Interiors, OTIS College of Art and Design
Nicholas Hafermaas, Dean of Special Programs and Chair, Graphic Design Department, Art Center
2011 Jury
Andreas Harlow, Design Director, NIKE
David Mocarski, Chair, Environmental Design, Art Center College
Gadi Amit, President, New Deal Design
Dan Harden, President, Whipsaw
Cathy Huang, President, China Bridge
Imre Molnar, Dean, College for Creative Studies
James Parr, Innovation Director, Imaginals, Ltd.
Stanley Saitowitz, Design Principal, Natoma Architects
John Skidgel, UX Designer, YouTube / Google Inc.
Leslie Speer. Associate Professor, Art & Design
Michael Cronan, Principal, Cronan
Charlie Sheldon, Design Director, Link Studios
2010 Jury
Executive Jury Co-Chair, Chee Pearlman, President, Chee Company
Michael Vanderbyl, Executive Jury Co-Chair, Principal, Vanderbyl Design
John Barratt, CEO, Teague
Sally Dominguez, Partner, B. Architecture and Rain Water Hog
Rob Curedale, Principle, Curedale Design
Adam Brodsley, Partner, Volume Design
Thom Faulders, Faulders Studio Architects
Tucker Viemeister, Viemeister Industries
Gaby Brink, Principal, Tommorowpartners
Scott Stropkay, Co-Founder, Essential Design
Ken Musgrave, Director, Experience Design, Dell Computers
Heather Fleming, CEO, Catapult Design
Margaret Gould Stewart, Director of Product Design, Facebook
Kerry Tremain, Editorial Director, Wild Blue Studios
Susan Rockrise, Identity Consultant, Susan Rockrise + Associates
Bryant Yeh, Principal, Yeh Studio Architects
Peter Strathis, Virtual Studios
2009 Jury
Executive Jury Chair, Chee Pearlman, President, Chee Company
David Albertson, Principal, Albertson Design
David Darling, Partner, Aidlin Darling Design
D. Philip Haine, Principal, Product Vision Associates
Rich Gioscia, Director of Design, HP Palm GBU
Cory Grosser, Principal, cory grosser design
Tong Huiming, Dean, College of Innovation & Design, Guangzhou Academy of Fine Arts
Nathan Shedroff, Chair of Design Strategy MBA, California College of Arts
Neil Robinson, Chief Creative Directer, AKQA
Sara Beckman, Hass School of Business, UC Berkeley
Beatrice Santiccioli, Principal, beatrice santiccioli design
Cameron Sinclair, Executive Director & Co-Founder, Architecture For Humanity
2008 Jury
Executive Jury Chairman, Kit Hinrichs, Studio Hinrichs
Marc Gobe, Principal, Emotional Branding
Tania Aldous, Design Director, World Kitchen
Tom Dair, President, Smart Design
Josh Morenstein, Design Director, Fuse Project
Ted Howes, Director, Consumer Products x. Innovation, Business for Social Responsibility
Tim Culvahouse, Principle, Culvahouse Architects
Jennifer Bostic, Creative Director, Paperplane Studio
Mark Davis, Director of User Experience, Autodesk
Margeigh Novotny, Microsoft
David Meckle, Director Research & Planning, California College Arts
Tom Matano, Dean of Industrial Design, Academy of Art
Manuel Saez, Principle, Manuel Saez Design
Brent Oppenheimer, Principal, O+CO
2007 Jury
Executive Jury Chairman, Kit Hinrichs, Studio Hinrichs Design
Sean Adams, AdamsMorioka
Nick Oakley, Sr Industrial Designer, Intel Mobility Group
Robert Cumberford, Design Editor, Automobile Magazine
Robert Hale, Principal, Rios Clementi Hale
Jay Baldwin, California College of Arts
Michael Kirchmann, Principal, GDNSY
Steve Simpson, CEO, Ogilvy & Mather
Ken Cook, Principal, BrandTank
Drew Takahashi, Funjacket