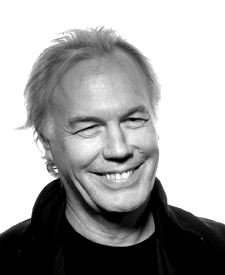 Tucker Viemeister, Principal, Viemeister Industries; Spark Juror, 2010

Who are you, professionally speaking?
Although there are benefits to being a little nebulous about what I can do, I have produced a lot of fun, profitable, good things! I call myself the "last industrial designer" because the field has changed so much: digital media has transformed the meaning "mass production" on every level!
How did you choose your design discipline?
I was named after a product—the car my dad, Read Viemeister was designing when I was born! So, I was introduced to design at the beginning of my life. As I grew up, I saw him making things, playing around with materials, drawing stuff – he was always thinking of ways to make things better. He was having lots of fun too! Couple that with my mother's desire to improve human social conditions (she became a social worker and a politician) –social imperative with the physical capability – software and hardware. What is a more powerful combination? I could have been a scientist, sculptor or a politician – but why would I want to narrow the possibilities of how I could make the world better?
What are some elements that make your designs distinctive?
Playing with the combination of form, function and ideas – that combination is what distinguishes designers from scientists, politicians or artists: Designers have to make stuff that looks good and work right – we need more who really think about it!
Is your work international, or regionally focused?
Universal! When we developed Good Grips at Smart Design we realized that by addressing a wider range of ergonomic needs, we could make things that were "normal" for more people. This idea of "universal design" applies as well to intangible activities too. That's why I coined the term "psychonomics" to demonstrate that our minds require handles too!
What is your ideal project or commission?
The "ideal" is "no ideal". One of the most appealing things about working with David Rockwell is the range of projects we did – one minute we're working on a casino in Singapore or creating a mobile kitchen to teach kids about nutrition. Now at Ralph Applebaum Associates, we'll be going in fabulous new directions.
Have you worked in sustainable materials?
The environment is an integral a factor everyone's work (that's why ultimately, everyone needs to be a designer!) but there are not very many simple solutions (as Rosanne Rosannadanna used to say: "it's always something!").
Who are your top 3 favorite designers?
* Read Viemeister – not just because he was my father, but he could do anything (not just because he was my father). He was a wiz in all media and he thought as much about how to make it, as how people would behave with it.
* Philippe Stark: He makes the coolest shapes and gets them used in the coolest places. I love staying in his hotels and juicing a lemon with his juicer!
* Ted Muehling: everything he makes is beautiful – jewelry, bowls, lamps, doorknobs and his store, shop and his home. Everything he touches is considered and perfect. He is a paradox of simple and plain.
* Jon Stewart: what is "design" but problem solving and reformatting to make things more useful, understandable and kinder? The design of each part of his show is conceived to make us see more clearly and make us happy.
What are you currently reading?
Stuff from science fiction by Bruce Sterling and Neal Stevenson to popular psychology like Malcolm Gladstone and Steven Holt, but right now I'm reading a book by Randall Rothenberg called "Where the Suckers Moon: The Life and Death of an Advertising Campaign." I started it because there is a section about my friend Tibor Kalman shooting a TV spot – but the detailed workings of the advertising are fascinating.
What advise can you offer to a new graduate?
Jobs are changing and disappearing, but that doesn't mean that the need for design is going away! In fact there are obviously more problems now! The trick is figuring how to impact those problems and how to support yourself at the same time. There is plenty to do – be creative about how you accomplish things!
How did you get your first paying design job?
(Not counting being a paper boy?)
When I graduated from Pratt there was a terrible recession, I lugged my portfolio around for weeks and finally one day Wyman and Cannan hired me and I went to work the same day! It was a perfect place for me –all the projects were multi-dimensional and our approach wasn't affected by the media (we designed exhibits with the same care as a wayfinding graphic symbols).
What do you do for inspiration?
I always check out all the design award programs, like Spark to see the best that our profession is doing! Really, I never seem to lack inspiration – what I do need more of is more time.