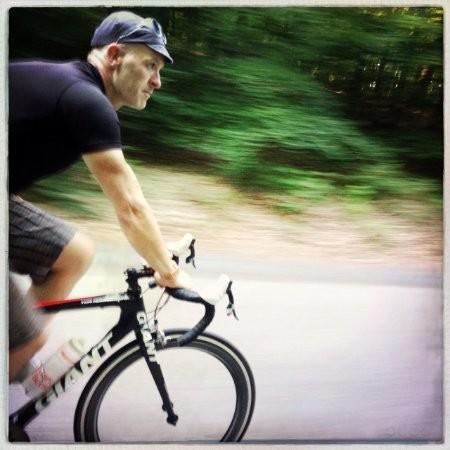 John-Rhys Newman, VP Design at Casper & Co
Who are you, professionally speaking?
I'm former Head of Advanced Design for Nokia. I am also co-founder of 18milesperhour LLC which is a small thing (for now) about cycling and also a maker and artist. I draw a lot and make things when I can.
How did you choose your design discipline?
It was either Fine Art or Design. At the time, I was afraid to pick fine art, it felt a bigger risk than Design. Funny that! When I was at my first year at Art College, I got to know some of the first years on the ID course. They had mountain bikes, seemed to draw and make things too, I wanted to be one of them.
What are some elements that make your designs distinctive?
I try to design relevant, valuable and meaningful things. But also with a good dose of emotion and sometimes humour. If I aspire to anything, it's maybe to design things that make you see the world different, oh and make you smile, a little
Is your work international, or regionally focused?
Both. Nokia's supports approximately 85 of the most common spoken languages on earth. So yes to both.
What is your ideal project or commission?
A good project can start from anywhere. But if I had to choose, maybe a difficult question? That's a good place to start. A confused, complex, convoluted mess that needs clarifying.
Have you worked in sustainable materials?
Yes. When you work for a company that manufactures something like 17 phones a second, it forces you to consider the sustainable materials, and sustainability in all it's forms; But it's also an opportunity to create change, positive change, at an enormous scale. This can be daunting and inspiring at the same time.
Who are your top 3 favorite designers?
Castiglioni because of his wonderful observations and potential he discovered in materials and objects. Thomas Heatherwick because of the playfulness and diversity of scale. Not really a designer but I'll return to Jaques Tati, as a favourite source of inspiration.
What are you currently reading?
A column of New Yorker's that keeps on growing. Conquering the Sky, The Secret flights of the Wright Brothers at Kitty Hawk. I've just finished – today – The Fall of Giants by Ken Follett. Also I've just finished Miss Peregrine's Home for Peculiar Children. I love fiction.
What advise can you offer to a new graduate?
Ask good questions. Draw a lot. Draw to think not just to illustrate or design. Follow good people and good projects. Good things are made by teams of people, so be nice. Have an opinion, but be nice.
How did you get your first paying design job?
I was fortunate to be offered a job as a result of my final BA degree show, so straight from college. I was let go 9 months later when the company ran out of money!
What do you do for inspiration?
Draw, ride my bicycle and read fiction. Red wine.