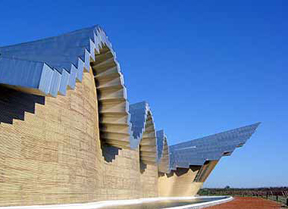 Santiago Calatrava, La Rioja, Bodegas Ysios. ©arcspace.com
Spark's Roof & Foundation–
Sponsors, Supporters, Partners & the Founders Program
We are proud to have the support and endorsement of many leading organizations.
Past and present sponsors and partners include Autodesk, Studio Hinrichs, Pluo Consulting (creators of this fine website), RIOT Color, FGI Interactive, Pentagram Design, Automobile Magazine, Dwell Magazine, frog design, Hewlett-Packard, Whirlpool, major media like Bravo Media, Silverfish Productions, colleges and universities like the California College of the Arts, Rutgers University (NCPP), UC Berkeley CED, Academy of Art, Quangzhou Academy of Fine Arts, University of Michigan Taubman College, Tongji University, Samsung Art & Design Institute, HongIk University and the School of Visual Arts.
Spark is very proud of it's association partners, the Global Design Network, Guangdong Industrial Design Association, Taiwan Design Center and the Hong Kong Designers Association.
We have had many beautiful exhibitions in China, and thank the Shenzhen Industrial Design Association for hosting the magnificent Spark Pavilion in December, 2013 and 2014.

We are also very pleased to be associated with ArchNewsNow, and CORE 77.