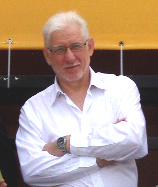 Founder and Director, Peter F. Kuchnicki
Welcome to the Spark World of Design
And welcome to the world's most modern design competition—the Spark Awards. All designers are welcome!
We are thrilled to begin our eighth cycle of awards in 2014. It's truly an amazing thing for the Spark team and community, to have come so far, so fast. We can thank our supporters and entrants for this. You have made this Spark hot!
We are always happy to see new friends and participants join us from around the world. The Spark website is the home base, with outposts at LinkedIn, Youtube, Facebook and Twitter to add plenty of ways to communicate about design, creativity and sustainability. We hope you will actively participate, and help celebrate the Spirit of Design.
---
TRANS:MISSION
The Spark mission is to promote better living through better design. The criteria are the same for all Spark competitions: does the design "Spark," i.e., innovate, change the game and in some way help humanity or the environment we live in. The Spark founders believe Design is an important, relevant tool to help build a better world. We feel that Design and designers act as catalysts, addressing problems and improving our lives and our Earth.
Spark is about Change—designed change. Change for the better: studied, researched, cognizant of criteria like sustainability, suitability, context, inventiveness, process, universality—and yes, beauty.
Ultimately, one must ask why this is important. Commerce is important, but it is a means to an end. We might call the real goal "betterment." Better lives, better health, better water, better air. Great design can help us get there. Do your part—make designs that make a difference. We'll help.
The Spark Design Awards—the modern design competitions.
---
BACKSTORY: A SPARK IN THE DARK
The story of Spark starts with a competition created by events producer Peter Kuchnicki in February, 2001. As Peter tells it, the time for change was at hand. "In the ten years prior, we had produced over 60 conferences and events, mostly for the advertising and media businesses. A few competitions were in that mix, so we knew they were fun to be involved with. Conferences are difficult and commercial topics were becoming boring. We wanted to break out and support sustainable design, advanced transportation and universal design. We needed another platform."
Peter continued "In 2000 we began a series of conferences for the multi-disciplinary design magazine, Metropolis, with famous Editor Susan Szenasy. These were excellent affairs and introduced us  to a delightful group of designers and architects. We were very impressed with this audience, but the Metropolis Conferences were coming to an end. Remembering our earlier work in the advertising community, we created a new awards competition as a side-event to the last two conferences. We called it Designing Worlds."
Designing Worlds was a side-event that became the main event. Bobby Kennedy Jr. was the keynote speaker, the entrants were all students and the subject, sustainable design. As Peter related, "From the audience reaction, we knew this was the future. Now we had to turn it into an ongoing operation,". "We took a little longer than planned – other events in 2001 took precedence. When we came back to the project, our friends in the related design disciplines were adamant about one thing—they were just not going to support another highly commercial, peer to peer design competition." Brent Oppenheimer, Principal of O+Co in NYC, made it clear: "We have dozens of these things—we are obligated to enter them but they give me no pleasure. We're looking for a higher angel—a way to promote societal advancement and innovation—not just ourselves."
A unique fusion of talented professionals began to fashion the Spark initiative—top designers like Kit Hinrichs, then a senior Pentagram partner, Sam Lucente, former head of all design for Hewlett-Packard, pioneering digital film-maker Drew Takahashi and many others– filmmakers, advertising folk, architects, all types of designers, kids and a few moms and dads. Media partners helped too—like the hot US magazines Dwell and Automobile, China's Design 360, Australia's Curve and Korea's DesignNet Magazine and Monthly<Design>. A few enlightened corporations began to underwrite the project too—Autodesk was—and is an essential partner. Special support was provided by Marc Gobé, CEO of Emotional Branding, Brent Oppenheimer, founder of O+CO and the partners at Essential in Boston.
So, as Peter "made the rounds" and gathered  the new Spark Awards Advisory Council and Community Boards, the mission gradually evolved to become the initiative you see today. Their motto "One For All" reflects the "design for everyone" scope of the program. Simpler yet, the Spark "elevator speech" boils it down to four tenets: Spark supports Multi-disciplinary, Multi-cultural, Global and Aspirational Design–for all.
And don't forget Fabulous!
Register for Spark Today >HERE
Questions? Ask Spark >HERE