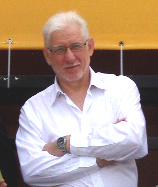 Founder and Director, Peter F. Kuchnicki
Welcome to the Spark World of Design
And welcome to the world's most modern design competition—the Spark Awards. All designers are welcome!
We are thrilled to begin our eighth cycle of awards in 2014. It's truly an amazing thing for the Spark team and community, to have come so far, so fast. We can thank our supporters and entrants for this. You have made this Spark hot!
We are always happy to see new friends and participants join us from around the world. The Spark website is the home base, with outposts at LinkedIn, Youtube, Facebook and Twitter to add plenty of ways to communicate about design, creativity and sustainability. We hope you will actively participate, and help celebrate the Spirit of Design.
Register for Spark Today >HERE