The AllSpark Awards
In 2012 we inaugurated the AllSpark Awards, honoring the "Best of the Best of the Best" of all the year's winning entrants. We continue this tradition with three outstanding selections for 2018.
We assemble a very special jury to choose the AllSpark winners, composed of veteran judges from the juries that have served since we began the Spark Design Awards in 2007. The Jury Chair is the renowned design thinker, Arnold Wasserman.
Arnold is the Founding Chair of the INDEX Design Awards Jury in Copenhagen, teaches at Carnegie-Mellon and is the Founding Partner of Collective Invention in San Francisco and The Idea Factory in Singapore.
We are delighted to announce the three newest winners of the AllSpark Platinum Awards, our 2018 "Bests of the Best" as Jury Chair, Arnold describes the award.
These awards are given to three winning designs that epitomize the Spark mission—Design For Betterment. The three awards are all of the same level and may come from any of our competition categories.
Arnold was the Master of Ceremonies for AllSpark and made this introduction:
AllSpark 2018 Awards
With the AllSpark Awards we recognize three designs selected by our judges as this year's Best of the Best of the Best.
Awards Celebrations like tonight's are very nice. But we're missing out on the most interesting part of the Spark Program.
We miss out on the thinking and animated argumentation of more than 40 jurors over the course of a year—as they deliberate over the dimensions of merit that make a design worthy of recognition at different levels of award. (The 2018 winners can all be viewed in the Spark Galleries)
These jurors are mostly heads of their own design organizations and distinguished awardees in their own right.
To gain a little insight into their thinking, we asked the jurors to share a sentence or two on why they selected a particular design for AllSpark recognition.
The 2018 AllSpark Award goes to enhancements to a ubiquitous product:
Google Pixel USB-C Earbuds
AllSpark Award
Designer: Google Hardware Design Team, Google LLC
Design Type: Electronics
Competition: Spark Product Design
Company : Google LLC
Pixel USB-C earbuds are comfortable to wear, deliver great sound and the built in remote gives you all the usual music controls, plus a long press activates the Google Assistant, letting you respond to a text, add to your shopping list or even start a conversation in up to 40 languages using Google Translate.
If you have 95 percentile ears like mine, and can never get earbuds that stay in your ears, you will especially appreciate a novel feature of this design. As Juror Thomas Illick said, " Very clever use of the cord to create an adjustable element that helps hold the earbud in the ear. Simple and effective! The integration of Google Translate is also excellent. My Criteria: Personal Connection (translator) ; Suitability to Purpose (cord and translator) ; Elegance and Beauty (cord)."
Juror H. Hulett Jones noted: "I'm awarding Google USB-C earbuds for Suitability to Purpose, but I'd also add inventiveness and innovation, particularly in use of the cord loop for holding the ear buds in place."
The second AllSpark Award goes to an inexpensive and ingenious little product that could have a worldwide health impact.
SEED
AllSpark Award
Designer: Mir Yoon
School: Konkuk University
Design Type: Health & Medical
Competition: Spark Student Concept
4.3 million people die every year from malaria. In order to solve such a problem, the injection design was made to increase of the amount of vaccinations through redundancy and cost reduction.
Juror Mark Sarkisian said, "Seed – This invention can have a very significant impact on millions of people that suffer from malaria and die from the disease. This Sparky medical device is easy to use, at a low cost and could have a huge impact on saving lives in developing areas around the world."
Juror Larry Miller commented "I believe that SEED is a device that could have a positive impact on the world facilitated by an easy-to-use and well-designed package."
The third AllSpark Award goes to a very large, complex, site-specific socio-technical environmental system. This systematic approach to a vast CleanTech assignment epitomizes the successful merging of large-scale thinking and granular attention to all the details.
Chengdu Tianfu Aerotropolis
AllSpark Award
Designer: Ellen Lou – Director, FAIA, AICP
Company: Skidmore, Owings & Merrill LLP
Competition: Spark Spaces
Design Type: Urban Design/Master Plan
Team Members: Chengdu Hi-tech District Planning, Land, and Construction Bureau (Client), Arup (Infrastructure), CHS Consulting Group (Transportation), Klimaat Consulting & Innovation (Climate), Land Econ Group (Economy), Moriyama & Teshima Planners (Environment), CityFi (Smart City), MIC (Transportation)
Countering conventional urban design approaches in China, this 668 km2 Chengdu Tianfu International Airport City Plan advances an integrated, climate-responsive urbanism shaped by nature and scientific analysis. Rather than the typical skyline of skyscrapers, site analysis argued for a series of low-to-mid-rise districts that responds to the area's unique topography of ancient sea beds, and its unusual ecology of natural waterways and irrigation infrastructure. Under this systems-based approach, all aspects of development—site ecology, infrastructure and architecture—work in concert: environmental resiliency supports economic vitality, individual wellbeing strengthens local identity. Vibrant, varied mixed-use districts—still rare in China—define a human-scaled urbanism, walkable and social, yet dense enough to support transit and attract economic investment
Juror Professor Jesvin Yeo Puay Hwa said: "We seriously need to have more designers and companies to focus on humanity and pay attention to our environment."
In Conclusion:
Our three AllSpark Awards exemplify the broad spectrum of what designers give their attention to the days—from earbuds to disease control to sustainable urban environments. Exciting stuff.
Now let's go give our attention to some beer and sliders!
Thank you.
—Arnold Wasserman
Arnold Wasserman's Remarks at the 2014 AllSpark Ceremony
Tonight we present the ALLSPARK Platinum Awards … A combined jury of all the SPARK AWARDS judges. selected these three as the "Best of the Bests" of all the 2014 winners:
CULTURA BOOKSTORE
A Space design by Marcio Kogan – Architect and studio mk27 , Sao Paulo, Brazil– This is what environmental psychologists call a centripital space … A space that compels people inward … Like a visceral tractor beam … The designer says: This is a bookstore as a meeting place at Iguatemi shopping mall in Sao Paulo. More than just merely a place to shop for a book but an inviting place to stay and hang-out.
DA VINCI XI MINIMALLY INVASIVE SURGICAL SYSTEM
A Medical Device design by Mike Hanuschik – Director of Design at Intuitive Surgical, Sunnyvale, CA– Hardly any socio-technical field is more in need of … And is actually undergoing … more redesign … than wellness, health care and medical treatment … In policy, delivery and technological innovation. Da Vinci XI sits at the cutting edge of this transformation of the health field. Compared to traditional 'open' surgery, Minimally invasive surgery causes less pain, fewer complications, and a quicker recovery.
The da Vinci Xi Surgical System acts as a natural extension of a surgeon's eyes and hands. By combining cutting-edge robotics, 3D stereoscopic vision, and intuitive interface controls it gives patients options for minimally invasive procedures that would otherwise be performed as open surgery.
DANGERDUST ANONYMOUS CHALKBOARD GRAFFITI
This final ALLSPARKS awardee lies at the opposite end of the technological spectrum … Beyond low tech … It is almost no tech … Its tools are among the earliest humans first used to make expressive marks on surfaces… Chalk on slate… using one of the oldest expressive forms of art: calligraphy This student concept design is by DangerDust, the name of two Anonymous Chalkboard Graffiti Artists at Columbus College of Art and Design in Columbus, OHIO.
The anonymous duo vandalize chalkboards with beautiful art in the middle of the night. Every week they create a new chalk masterpiece based on a quotation to inspire their peers.
They set it up somewhere in the school and then come back and erase it and do a new one. As they put it: "We love the idea of taking something ordinary and making it into something special."
Their motto is "VANDALS SINCE 2013" To get an idea how wonderful this work is you must, as soon as we are finished here, take out your phone and go to #dangerdust for their twitter feed or to their etsy store or their youtube videos. Thank you and now let's go celebrate design.

Arnold Wasserman Comments at the 2013 AllSpark Awards Celebration, San Francisco
Salient Trends in Design
This year's AllSpark Platinum awards demonstrate again the breadth of reach as well as the depth of maturity of design today. The AllSpark jury selected three best of the best of the 170 Spark winners. In these AllSpark designs we can see three of the most salient trends in design at this moment:
The first trend is TRANSITION DESIGN: This design addresses a traditional category – automotive – with an artifact that is shiny, fast, glamorous, exclusive, makes sexy noises and costs a lot of money.
This design applies technology, material science and aspirational esthetics to advance personal mobility along the pathway toward sustainable production and consumption .
This automotive AllSpark winner is BMW's i8 plug-in electric hybrid performance car, Design Lead, Benoit Jacob
The second trend is SOCIAL INTERVENTION DESIGN: This pilot experience design project in Holland helps families break the cycle of long term poverty. It applies information, communication, interaction and experience design methods to address a complex, wicked problem that has social, economic and political impact for large numbers of marginalized people.
This design creates a context where social workers learn how to use design tools for greater efficacy and recipients become self-aware problem solvers who begin to view themselves as agents on their own behalf rather than helpless dependents of the state.
This experience design AllSpark winner is titled DOOR-TO-DOOR FOR CHANGE: Breaking the Cycle of Poverty, Creative Director, Lea Ward.
The third trend is EMPATHIC DESIGN: This medical device design addresses the standard exam routine for breast cancer that women must undergo on a regular basis. The designers takes notice of women's feelings of discomfort, anxiety and embarrassment associated with the exam.
The design solution elegantly marries insightful observation and sensitive personal aesthetics with diagnostic, health tracking and analytics technologies.
This medical device AllSpark winner is titled HEART 2b, designed by students Junyoung Park & Hyemin Bae
We are pleased to present the 2013 AllSpark Platinum Awards for these three exemplars of TRANSITION DESIGN, SOCIAL INTERVENTION DESIGN and EMPATHIC DESIGN.
The Scope, Scale and Reach of Design Today
Arnold Wasserman Remarks at the AllSpark Platinum Design Awards Celebration
San Francisco, 02.15.13
One often hears it said that we are living in a new golden age of design. A lot of evidence would seem to bear that out.
Consider scope: Witness the breadth of fields in which designers now operate these days, not as technical servants but as thought leaders, activists, agents of change and innovation partners together with not only private industry but with government at national, state and local levels, with civil associations, NGOs, International organizations and philanthropies.
Complex, wicked, socio-technical systems problems that as recently as ten years ago would have been at the outer edge of design practice are now at the very center.
"Design to Improve Life" has become our call to action.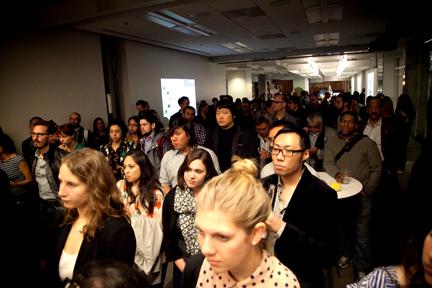 In addition to our traditional roles as creators and communicators of material culture, we work today on public policy, humanitarian design, public interest programs, design-based K-12 learning, sustainable production and consumption, resilient metro regions, deep local economic development, national creative sector development, professional field building, organizational design, and on and on.
Consider scale: Witness the explosive growth of the design professions worldwide.
Today, China alone has more than 400 design schools graduating over 10,000 product designers and 12,000 media designers each year.
Consider breadth: Not only better trained than ever before in their vertical sectors of specialization, today's designers move easily across sectors, aided by literacy in cross-cutting disciplines like design research, ethnography, interaction, new media, social technologies, human-centered innovation, materials science and sustainability.
Consider depth: Witness the plethora of venues internationally for design conferencing, discourse and news. The professional association programs of IDSA, ICSID, AIGA, AIA, and SIGCHI. Great private organizations like DMI in the U.S., DESIGN INDABA in South Africa and INDEX in Denmark, plus government supported design centers worldwide, plus web supersites and portals, like CORE 77, DEXIGNER, DESIGN MIND, FAST COMPANY'S CO.DESIGN, 3RINGS and more.
Witness the ever increasing number of superb quality design award competitions like IDEA, Good Design, BRAUN PRIZE, iF, DESIGN INDABA, INDEX Copenhagen, countless corporate design competitions… and, of course, the SPARK AWARDS.
Witness the ubiquitous adoption of Design Thinking and UX (User Experience) not just as memes but as embedded practice by other disciplines in the private, public, civil and academic spheres.
In this rush of design there is a lot of noise. But there is also a wealth of superb quality signal as well. Witness the Spark award winners you see around you here this evening.
Given all this evidence and more, you could believe that ours is indeed a golden age of design.
But you would be wrong.
Gold, my dear, is so 2012!
Tonight we inaugurate the PLATINUM ERA OF DESIGN
By honoring the three Best of the Best of the Best of this year's Spark winners:
THE ALLSPARK PLATINUM AWARDS
Thanks for Celebrating with us. Now lets eat!