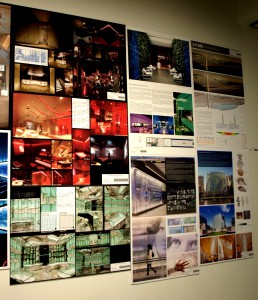 JURY DISPLAY POSTER OPTION
A display board/poster may be submitted along with your required media. These are effective media to help convey your design to the judges, in addition to your other submitted materials.
Poster Boards may be submitted by finalists in all competitions including Concept Design. Please only submit one display board/poster per entry. It may have multiple panels or images on it.
We currently accept only one size for production: A3+; 13" x 19" (33cm x 48 cm). Please size your image to fit within those dimensions.
The poster can contain any content you wish that will best show off your design. This can be multiple images, a single image, a new image, text, call-outs—whatever you want. One display board per entry. A portrait layout is preferable, but landscape is allowed. Poster boards are not returned after the jury and are recycled in a sustainable process.
SHIPPING OR DELIVERING BOARDS (San Francisco Categories only: Product, Communications, Spaces, Health, Transport, Cause, Experience & WEAR)
If you are producing display posters or boards yourself, please have them delivered to arrive no later than 5pm, Friday, November 10, 2017:
AO Freight Corporation
Spark Awards, c/o: Erica Wong (Phone: +1.650.588.7368)
380 Swift Ave., Unit# 23,
South San Francisco, CA 94080
USA
HOW TO HAVE DISPLAY BOARD POSTERS PRODUCED LOCALLY (San Francisco Categories only. See list above)
For your convenience, Spark can produce these at extra cost. They require advance payment. Payment will be made via our Paypal account. The Spark team will produce a high-quality display poster and deliver it to the Spark juries.
If you are submitting work from afar, you may wish to have a display poster made directly by Spark, instead of shipping them to our jury site. This can save time, shipping costs and is very convenient.
The process is simple—you send a digital JPG file to: Posters@sparkawards.com. They will be printed on photo-quality stock and be delivered to the local Spark Jury. Please give Spark ample time to create your posters—do not wait until deadline! Spark can not be responsible for entries that arrive too late for processing and delivery. The delivery deadline for board creation is Monday, November 6. We must have your files and payment by 5pm PST (California) on (or preferably before) that day.
Spark will produce display boards to Spark specified sizes of A3+; 13" x 19" (33cm x 48 cm).
The Images should be set to 150 dpi—at their final output size. RGB is recommended. Please name your file Spark.(your_design's name).jpg. Please note that Tif and PDF files are not accepted.
All Prints will cost US$65 each. These prices include taxes and delivery to the Spark Jury site. Spark requires full pre-payment before production.
If you would like to order a display poster for the judging, send a note to posters@sparkawards. Make sure to list each separate design entry name in your note. Spark will then send you a Paypal invoice for the amount due, which can be paid by a wide range of methods (credit card, bank transfer, etc.)