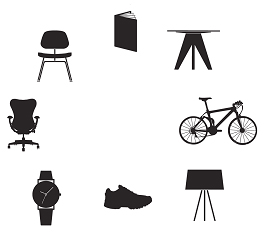 SPARK PRODUCT AWARD CATEGORIES
Spark Product includes all Product and Industrial Design

Spark has a very open entry system, for every possible type of design within the disciplines covered. Thus, we have listed a large number of categories listed. Sometimes, a design may fit more than one category. Categories are listed here so a designer feels that their work is appropriate and welcome.
Yes—the choices can be overwhelming. But don't worry about choosing the "best" one when registering. Everything is judged on its merits.
Designs are not judged within a category, but rather, in the context of our Criteria. We can have any number of winners—or none, in any given area. All depends on the quality of the work, and the design sensibility of jury. That's why we work hard to find tough, fair and collegial judges.
Any Product design may be submitted, including designs previously submitted to Spark competitions.
CATEGORY GUIDANCE
Leisure, sports, health, well-being and outdoor recreation
Industrial and consumer tools and equipment
General consumer goods and appliances
Kitchen, domestic and bath appliances
Electronic equipment—telecom, audio, home entertainment, computers, etc.
Lighting
Jewelry, timepieces. awards, trophies and luxury goods
Wearables
Multi-disciplinary projects
Residential and office furniture and furnishings
Street furniture and fittings
Note: the Spark categories have been established to provide a helpful way for designers to describe and organize their entry. If the jury feels that an entry would be better served in another, it may move that entry.