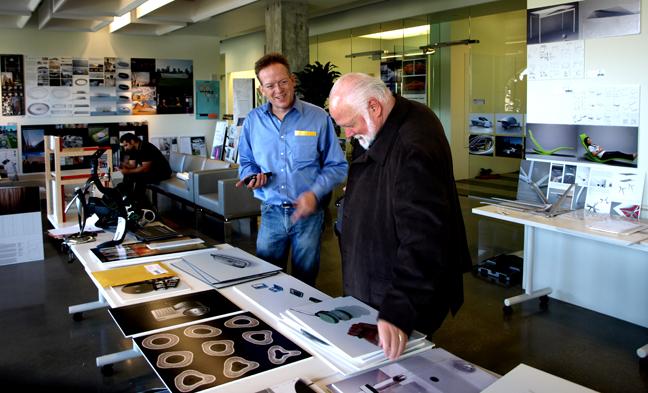 Jurors Tim Culvahouse, Culvahouse Consulting & Kit Hinrichs, Studio Hinrichs
FIRST—HOW TO ENTER
1. Register: https://competitions.sparkawards.com/
2. Choose your competition
3. Upload your design images & description
4. Pay the Phase 1 entry fee
5. If chosen, pay Phase 2 Finalist fee
6. If selected as a winner, Congratulations!
You're finished!
Now here's a more detailed description of the process.
WHAT TO ENTER
Spark Concept welcomes designs from any discipline, created in any medium or form, by both students and professionals.
Entrants need to follow these steps, described in detail below:
1. Register one time. Any number of entries may be made with one registration. Make sure to write down your Username and Password and keep it in a secure place.
2. Submit your design entries online in the "My Submisssions" area. No physical submissions are necessary in Spark Concept. You may enter as many pieces as you would like, but only one design or series per entry.
Where the Upload form asks for Designer or Team Leader name, you may want to emphasize the whole team. In that case, write "Design Team" in those fields. Then, put all your team members into space on the form provided for additional team members. If you are a Spark Winner or Finalist, we will be happy to list all team members in subsequent materials and certificates, after the competition closes.
3. Make payment at your registration page. If you need a different payment method, contact us >HERE. After initial registration, log in to your registration page, where you'll see the option to enter your payment information via credit card. If you are from the USA and time allows, you may pay by check. In that case, please notify us to expect it. Overseas entrants may also wish to make payments via Paypal or bank wire (with a small service charge)–please inquire with us for details. After receiving payment, your status will be marked as "paid and approved."
4. Entrants will initially upload at least three (1 MB maximum size each) images of their work for Phase 1. They should be 8 inches (200mm) in height or more. The images may be portrait or landscape. They must be a JPG file. All files should be RGB. At least one of the images must be completely free of any text, call-out lines, boxes or blurbs, and ideally, float on a white background. We recommend that the first photo you upload is a horizontal rectangle, because that is the box used in the Entry Gallery, and other shapes can distort. The remaining photos can be of any shape.
DESIGN DESCRIPTION & QUESTIONS
Entrants will also supply a 75-word, short description (synopsis), and Finalists answer a series of questions about the designs. All entry descriptions must be in English. For your description or mission statement, please start with a headline. We recommend a straight, non-sales, non-marketing, non-PR description of your design's merits, applicability and cognizance of our Criteria. Spark reserves the right to edit these descriptions (and the images) for clarity and/or reasonable standards of good taste.
It will be useful to the judges if you can answer some, or all, of the questions below. We will ask for these answers from all Finalists chosen in Phase 1. Please answer as clearly and as briefly as possible. 25 words maximum response each. Just the facts, please—no sales or PR or designer self-promotion. Jurors do not approve.
Why should this design exist?
What is the design brief, challenge or problem to be solved?
Tell us about your strategy or process. How did you develop the design or user/client solution?
What is innovative about the design?
What is the context of your work? An important aspect of sustainability is how the design fits into the situation.
What results, effectiveness or benefits does it deliver?
What makes your design compelling? Does it tell a story?
How does your design enhance the quality of life, or improve the human condition?
Price/cost range?
Do you have verified statistics or performance data? What is the verification authority?
VIDEO
You will also find a field on the entry form for a Youtube video link. You may upload a link to a YouTube video or slideshow to help tell the story of your design. Please keep it short and factual. It can be up to three minutes in length.
Videos are highly recommended—however, it is an option, not a requirement. Sorry, only Youtube links are allowed. NO Vimeo, et al. To embed a video into your entry, first go to the YouTube site, click the "Share" button below your YouTube video and copy and paste the YouTube URL into the box provided in the Spark "My Submissions" page. The URL should look similar to this: http://youtu.be/1D_YL9LwKnc
NOTES
Your Concept designs are all judged online for both Phase 1 and Phase 2. Do NOT ship your work to Spark.
Many questions are addressed in the Questions & Answers section on the website.
LEGAL
All entrants agree to and are bound by the competition Terms and Conditions found in the registration pages of the Spark website.
By entering this competition, you and your organization affirm that your entry is original and does not infringe upon the rights of any person or entity. The Spark Awards are not liable for any copyright or trademark infringement on the part of the entrant. Spark entrants are advised and required to obtain third party consents where required by law or by best ethical practices. If a dispute takes place, all legal expenses will be born by the entrant, and any winning entry is subject to losing the award.
Entrants own the Intellectual Property (IP) rights to the original design work they submit to the Spark Awards competitions. Spark does not own original I.P. rights or works entered into the competitions, but has a royalty-free, perpetual right to use that work in connection with publicity and promotion of Spark programs.
Spark Award sponsors or partners (Businesses and Organizations) do not own design entries, original research, or design materials that they sponsor or support unless a written license or other transfer of rights in those works is executed by the design creator(s) and acknowledged in writing by all parties, including Spark.
VERY IMPORTANT NOTES:
IF YOU ARE ASKING SPARK A QUESTION, ALWAYS PUT YOUR NAME, DESIGN NAME AND ORGANIZATION OR SCHOOL IN THE EMAIL. IF YOU HAVE AN ENTRY OR REGISTRATION PROBLEM, INCLUDE A SCREENSHOT OF THE ERROR MESSAGE, TOO.
SOME EMAIL SYSTEMS (LIKE NAVER) OFTEN BLOCK SPARK EMAILS. IF SO, PLEASE TRY ANOTHER SYSTEM LIKE GMAIL, YAHOO OR OTHERS.