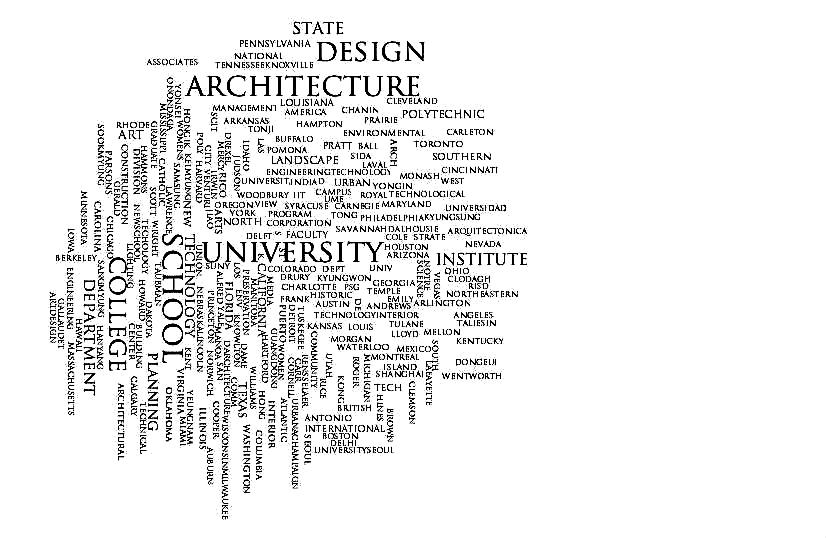 SPARK LOVES SCHOOLS
Why? Because they are great creators of Sparks (along with smart parents and generous mentors). Although Spark:Concept is itself young, we already have several great partner-schools, and many top educators sit on the Spark Advisory Councils. If you think your school would be a good match with Spark, ask your Dean's or designer professor's office to contact us, or just drop us a note with their contact info.
Spark's inspiring educators include:
RICHARD WILDE, Chairman, Graphic Design and Advertising Dept., School of Visual Arts, NYC
TOM MATANO, Executive Director Industrial Design, Academy of Art University, SF
DAVID MECKEL, Director of Research and Planning, California College of the Arts, SF
PROFESSOR TONG HUMING, Director, College of Design, Guangzhou Academy of Fine Art
CLARK KELLOGG, Associate Professor, UC Berkeley College of Environmental Design
PROFESSOR JUN CAI, Director, Design Mgmt Research Lab, Tsinghua University, Beijing
PROFESSOR JAN VON HOLSTEIN, College of Design & Innovation, Tongji Univ., Shanghai/London
DR MARC HOLZER, Executive Director, National Center for Public Productivity, Rutgers University, New Jersey
PROFESSOR RENKE HE, Dean, Hunan University School of Design
DR NADA MARIE ANID, Dean, School of Engineering & Computor Sciences, NY Institute of Technology
LORRAINE JUSTICE, Dean, College of Imaging Arts and Sciences, Rochester Institute of Technology
YONGQI LOU, Vice Dean, College of Design & Innovation of Tongji University, Shanghai
SARA L. BECKMAN, Faculty Director, UC Berkeley Haas School of Business
DR PETER SEELEY, Adjunct Professor, Peter F. Drucker Graduate School, Claremont University
KATHLEEN CREIGHTON, Chair, Communications Design, Pratt Institute, NY
CHARLES SHELDON, Dean, Inustrial Design, California College of the Arts, SF
MALCOLM MCCOLLOUGH, Professor, Taubman College Of Architecture, University Of Michigan
DAVID GROSSMAN, President, Israeli Community of Designers, Former Chair, ICOGRADA, Tel Aviv
AMY GENDLER, Assoc. Prof., Communication Design, Central Academy of Fine Arts, Beijing
DR. ROGER BALL, Pres. SizeChina, Assoc. Prof., School of Design, Hong Kong Polytechnic
DOUGLAS KELBAUGH, Professor of Architecture and Urban Planning, University of Michigan
DR. FRANKE NG, Assoc. Prof., Institute of Textiles & Clothing, Hong Kong Polytechnic
LINDA POLLARI, Chair, Architecture/Landscape/Interiors, OTIS College of Art and Design
STUDENT REGISTRATIONS, PARTNER & COOPERATING SCHOOLS
If your school is interested in becoming a Partner or Cooperating School, please contact Spark. There are no fees or financial obligations involved.
Academy of Art University
National  University Of Singapore
Accademia di Belle Arti di Firenze
National Cheng Kung University
American University of Sharjah
National Chengchi University
Amir Kabir University of Technology
National Chengchi University
Art Center College of Design
National Institute of Design
Art Institute of California
National Institute of Fashion Technology
Art Institute of California-Inland Empire
National Taipei University of Education
Art Institute of Houston
National Taipei University of Technology
Art Institute of Philadelphia
National Taiwan University
Art Institute of Seattle
National United University
Arts University at Bournemouth
National University of Ireland Maynooth
Asia University
National University of Ireland Maynooth
Aveiro University
National University of Kaohsiung
Baekseok University
National University of Singapore
Balwant Sheth School of Architecture
New York Institute of Technology
Belgrade Polytechnic
Ngee Ann Polytechnic
Beogradska Politehnika
Nicc College
Bharath University
Northumbria University
Bijupatnaik College of Science
Ohio University
Billy Blue College of Design
Oklaohma State University
Brigham Young University
Old Dominion University
Bucks New University
Ontario College of Art and Design University
Burg Giebichenstein Kunsthochschule
Oslo School of Architecture and design
Busan Korea Design Membership
Otis College of Art and Design
CAD Corporation Draughting Academy
Parsons the New School for Design
California College of the Arts
Penn State University
California State University, Long Beach
Pforzheim University
Carnegie Mellon University
Pontifical Catholic University of Paraná
Catholic University of Deagu
Pontifical Catholic University of Rio de Janeiro
CEDIM
Pukyong National University
Central Academy of Fine Arts
Punjab Technical University
Central Saint Martins College of Art & Design
Purdue University
Changwon National University
Republic Polytechnic
Cheongju University
Rhode Island School of Design
Cheshire School
Rice University
China Academy of Fine Arts
RMIT Universtity
Chung-ang University
Rochester Institute of Technology
College for Creative Studies
Royal College of Art
Cooper Union
Rutgers University
Cooper Union School of Art
Royal Institute of Technology
Cornell University
Ryerson University School of Interior Design
Cornerstone University
Saint-Petersburg State Polytechnical University
Cranbrook Academy of Art
Samsung Art & Design Institute
CSD Poliarte, Ancona Italy
Samsung Design Membership
Daegu University
San Francisco State University
Dankook University
San Jose State University
De La Salle College of Saint Benilde
SANGMYUNG UNIVERSITY
Design for America / University of Oregon
Savannah College of Art and Design
Designsori Academy
School of the Art Institute of Chicago
Domus Academy
School of Visual Arts
DongSeo University
Scuola Politecnica di Design
Drexel University
Sejong University
DSK ISD International School of Design
Seoul Digital University
Duncan of Jordanstone College of Art and Design
Seoul National University of Science & Technology
École Européenne Supérieure d'arts de Bretagne
Seoul National University of Science and Technology
Ecole Spéciale d'Architecture
Seoul Woman's University
Edinburgh Napier University
Shanghai Normal University
Eicher School
Shanghai Normal University
Emily Carr University
Sheffield Hallam University
Estonian University of Life Sciences
Shenkar College of Design and Engineering
European Istitute of Design
Shenyang Jianzhu University
Ewha Womans University
Shenyang Jianzhu University
Arquitetura e Urbanismo da Universidade de São Paulo
Shih-Chien University
Faculty of Philosophy, UNED
Shu-Te University
Falmouth University
Silla University
Fashion Institute of Technology
Sookmyung Woman University
Florence Design Academy
Sookmyung Women's University
Footwear Design & Development Institute
Soongsil University
Fortune Institute of Technology
Sooreh Art University
Gachon University
Stanford University
Goldsmiths, University of London
Sungkyunkwan University
Griffith University
Syracuse University
Guangzhou Academy of Fine Arts
Szent István University
Haas School of Business
Taiyuan Foreign Language School
Hanbat National University
Tamilnadu School Of Architecture
Handong Global University
Tamkang University
Hannam University
Tarbiat Modares University
Hanseo University
Taylor's University
Hansung University
Technical Institution of Patras
Hanyang University
Tecnológico de Monterrey
Harvard Medical School
Tehran University
Haverford School
Temple University
Ho Chi Minh City University of Architecture
Texas A&M University
Hochschule Anhalt
The One Academy
Högskolan för Design Och Konsthantverk
The University of the Arts
Hong Kong Baptist University
Tongji University
Hong Kong Baptist University
TUDelft
Hongik University
Tulane University
Hoseo University
UC Berkeley CED
Huafan University
Umeå Institute of Design
Humber College
UniRitter Laureate International Universities
IED Istituto Europeo di Design
Universidad Autonoma de Colombia
IIT Institute of Design
Universidad Autónoma Metropolitana
INJE University
Universidad de Bogotá Jorge Tadeo Lozano
Institut Teknologi Nasional Bandung
Universidad de Monterey
Institute of Aviation of Georgia
Universidad de Sevilla
Institute of Design
Universidad Nacional de Colombia
Instituto Tecnológico de Estudios Superiores
Universidade Federal de Goiás
Jeju National University
Universitas Pelita Harapan
Jeonbuk National University
Universitat Politecnica de Valencia
Johns Hopkins Center for Child and Community Health
Universiti Teknologi MARA
KBU International College
University of Adelaide
Keimyung University
University of Architecture and Urbanism Ion Mincu
Kendall College of Art and Design
University of Arts, Berlin
King Mongkut's University of Technology Thonburi
University of Baltimore
Kingston University
University of Cincinnati, DAAP
Kish International University of Tehran
University of East London
Kobayashi Maki Design Workshop/ Keio University
University of Edinburgh
Kobe Design University
University of Fine Arts Linz
Koln International School of Design
University of Houston
Köln International School of Design
University of Illinois at Urbana Champaign
Konkuk University Glocal Campus
University of Kuala Lumpur
Kookmin University
University of Malaya
Korea Advanced Institute of Science and Technology
University of Manitoba
Korea Design Membership
University of Michigan
Korea National University of Arts
University of Oregon
Korea National University of Transportation
University of Pennsylvania
Korea Politac University
University of Pune
Korea Polytechnic University
University of Salford
Korea Tech
University of Science and Technology Peking
Korea University
University of Scient HCMC
Kumoh National Institute of Technology
University of Seoul
Kungsung University
University of Southern California
Kyunghee University
University of Technology Eindhoven
Kyung-sung University
University of Tehran
Lasalle College of Arts
University of the Arts
Lawrence School
University of the East
Lebanese University
University of Toronto
London Metropolitan University
University of Washington
Manipal University
University of West-Hungary
Manonmaniam Sundaranar University
University of Wuppertal
Massachusetts Institute of Technology
Victoria University of Wellington
Massey University
Vimal Jyoty Central School
Miami Ad School
Virginia Tech
Mimar Sinan Fine Arts University
Waseda University
MIT Institute of Design
Winona State University
MIT Media Lab
Woodbury University
Mokwon University
Yale School of Architecture
Monash University
Yeongnam University
Morrison Institute of Technology
Yeungnam University
Musashino Art University
Yonam Institute of Digital Technology
Myongji University
Yongin University
Nanyang Polytechnic
Yonsei University
Nanyang Technological University
York Sheridan Program in Design
Zhejiang University